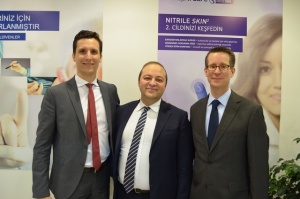 Sempermed Head of Sales Andreas Wöss and Sempermed Head of Sales EMEA Bernhard Walker, answered our questions about Sempermed and glove production.
Could you give us some information about the history/milestones of Sempermed?
Innovative Rubber Pioneer with Tradition. Semperit and its medical glove segment Sempermed have a long established history. As Europe's oldest rubber manufacturer, Semperit looks back on a 190-year corporate history. In 1824 Semperit founder Johann Nepomuk Reithoffer had applied for his patent for processing rubber – 20 years before Charles Goodyear developed vulcanization in 1844. Semperit's first medical glove was produced in 1920 and was one of the first companies to make latex gloves. Sempermed is the largest segment of the Semperit Group and is ranked among the international leading manufacturers of medical and industrial gloves. For more than 95 years Sempermed has been producing gloves of the highest quality and has set standards in terms of quality and innovation. Sempermed continually strives for optimum safety and reliability using the most modern production technologies, highest production hygiene and strictest quality checks.
It is obvious that to be a world leader in its sector is a hard job, could you please talk about it briefly? In which countries do you have production facilities?
We think globally and act locally, with a strong global positioning. Our production facilities are actually located where growing markets and natural resources are, supported by our worldwide distribution and service network to ensure maximum customer proximity. While the surgical glove production is still located in Wimpassing, Austria, the examination gloves are produced in Asia.
Sempermed productions facilities at a glance:
Wimpassing, Austria – the glove production facility in Austria exists since the very beginning in 1920 and is the heart of the Sempermed technology and innovation center and the production of surgical gloves
Hatyai, Thailand – Production of latex and nitrile exam gloves as well as protective gloves, established as a joint venture in 1989
Surat Thani, Thailand – Production of powder-free nitrile and latex exam and protective gloves, established as a joint venture in 2011
Kamunting, Malaysia – Production of latex and nitrile exam and protective gloves Sempermed has significantly strengthened its global market position since the acquisition of Latexx Partners in the fourth quarter of 2012. Since then, Sempermed has also added considerable production capacity over the last years in Kamunting, Malaysia.
Nilai, Malaysia – Production of porcelain dip mouldings for glove production
What is your annual production capacity? What is your target in short/medium/long term?
Sempermed sold more than 20 billion units of examination and protective gloves in 2014. Annual per capita consumption in the USA is 150 to 160 units of gloves, about ten times more than that in Asia. The comparable amount for Europe is between 60 to 70 gloves. Due to the higher starting point in the USA and Europe, annual growth in these markets is just 4% to 6%. By contrast, growth is considerably more dynamic in emerging markets like Turkey, which are growing at annual rates of 8% to 10%.This momentum is attributable to heightened awareness of the importance of hygiene, as well as stricter rules in public medicine and the lower starting point. In total, annual global volume growth of 5% to 7% is expected over the next several years. Sempermed's objective over the next years is to grow somewhat faster than the overall market.
How much of your capacity produced is allocted to Medical Sector?
The Medical Sector generated substantially high sales volumes in 2014. The demand for examination gloves in 2014 was very strong, especially in Europe. In contrast, the higher energy prices and upfront investment costs related to the capacity expansion drive initiated in Malaysia had an adverse effect on the Medical Sector's performance. Capacity utilization remained high at all Sempermed production plants.
As far as we know, Sempermed gives much importance to Quality&Assurance issues. Could you inform us about your activities with this regard?
Top and consistent quality for maximum safety is our focus. The high quality standard of Sempermed gloves is convincing all over the world. We put the safety and security of users first. Fit and Feel as well as skin friendliness and wearing comfort of gloves are key for us. European know-how, an environmentally aware high-tech production and comprehensive quality management guarantee maximum safety and reliability, as well as value for money. We are dedicated to providing optimal protection. Therefore, we work with the greatest care and permanent quality assurance in all areas (e.g. regular TÜV and FDA monitoring, CE certification, compliance with GMP guidelines). The consistent top quality of Sempermed gloves is monitored in accordance with the most stringent test specifications, is partly much better than the required standards, and can stand up to numerous comparisons.
Which products do you have in Sempermed product range?
Sempermed develops and manufactures a comprehensive range of single use surgical, examination and protective gloves covering all four state-of-the-art glove materials Latex (NRL), Nitrile (NBR), Vinyl (PVC) and Polyisoprene (IR). A significant part of the gloves is marketed under own Sempermed brands. We offer a variety of different colours – ideal for the specific use of the customer.
Sempermed® Surgical gloves High-quality surgical gloves made from natural latex (powdered and powder-free) and synthetic polyisoprene (latex free) are sold under the internationally renowned Sempermed® brand. The surgical gloves are produced in Austria, quality control and packaging activities are carried out in the nearby Sopron, Hungary. Sempercare® Examination gloves The Sempercare® brand covers the broad range of medical examination gloves for daily use in hospitals and care facilities, as well as in dental and medical practices. The portfolio reaches from nitrile to latex examination gloves, as well as vinyl. Semperguard® Protective gloves Semperguard® is the brand for disposable and re-usable gloves offering protection in various areas such as in laboratories, pharmaceuticals and the food industry, as well as in professional cleaning and hygiene. Due to the increasing awareness of the importance of hygiene, the consumer market, which is supplied by retailers, is growing significantly for this product group.
OUR STRATEGIC PARTNER ÇAPA MEDICAL
Sempermed Europe Middle East Africa Sales Director Bernhard Walker:
You have entered to Turkish Market through Çapa Medikal 2 years ago. Did Turkish market meet your expectations?
Absolutely and I would like to add the importance of serving the Turkish market through Capa Medikal who is marketing our Sempercare and Sempermed range of products – a key element of success for Sempermed in Turkey besides our product value propositions.
Could you give us information about your current position in Turkish Market, could you reach your sales target?
We have reached a significant market size in Turkey and this single market has reached within our "Europe/Middle East and African" sales region a key position. 2014 has seen our actual sales to be around 20% above our plans. The devaluation of the Turkish Lira does provide certain challenges however overall we are confident to continue our growth paths in the sales of medical examination and surgical gloves together with Capa Medikal.
Do you have any plan to reach to different markets through Çapa other, in addition to Turkey?
The proficiency of Capa Medikal gives us the flexiblity to discuss mutual opportunities for further co-operation. The customer feedback of Turkish endusers is already being used as valuabe source of information when it comes to product development and marketing aspects – remember that internationalisation and mobility of key-labour requires us to think beyond borders in any case.
Do you have any plan to set up a production facility in Turkey?
At the moment there are no concrete plans in the area of surgical and medical gloves yet in future decisions the attractive location of Turkey in the center between Europe, Asia and the Middle East will surely be taken into consideration.
Could you advise us what kind of quality standards necessary to have a glove?
Examination and surgical gloves are single-use disposable devices intended for medical purposes, especially those regarding contact with body orfices to prevent contamination between patient and examiner. The protection of the patient and practitioners is the fundament of the European Medical Device Directive 93/42/EEC. The basic standard for medical gloves is EN 455, which defines the requirements for freedom from pinholes, physical properties and dimensions as well as protein content for latex gloves and shelf life determination.  We put the safety and security of our users first.Top and consistent quality for maximum safety is our focus. Therefore all medical gloves by Sempermed are manufactured in compliance with EN 455 -1, 2, 3, 4 as well as ISO 9001 and ISO 13485.